Towing Service Near Me
Lake Services Unlimited Towing and Recovery LLC offers 24/7 towing services serving Barron, Burnett, Polk and St. Croix County, Wisconsin, as well as Chicago County. We're different because we use state of the art equipment to give the most efficient towing and recovery experience you will ever have. From heavy-duty wrecker to lockout assistance, we're always here when you need us most.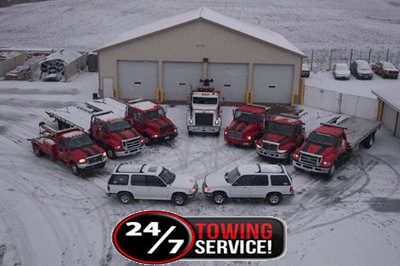 A Quality Towing Company Near Me
In addition to being available around the clock, we provide
an extensive list of services.
Accidental Towing: Car accidents can be exhausting, frightening, and a hassle. Our professional and trusted operators are here to help make an already stressful situation easier and provide solutions.
Flatbed Towing: From exotic vehicles to forklifts to trucks, our flatbed tow trucks can transport and tow it all. Our operators can tow multiple vehicles at once, making us more cost-efficient. The safety of your vehicle and your convenience are our top priorities.
Lockout Services: Locking yourself out of your car can be frustrating at worst and embarrassing at best (trust us, we know). We offer careful and quick lockout assistance for both manual and automatic vehicle locks.
Roadside Assistance: We stand out in a sea of towing
companies because we go above and beyond for our customers. If you find
yourself stranded on the side of the road, we can help with charging dead
batteries, filling up your gas tank, flat tires, and even on the spot vehicle
diagnostics.
Finally, we provide you with vehicle recovery and local and long-distance hauling. If you find yourself looking for 'towing service near me,' look no further. Our towing services are second to none, so give us a call toll-free at 1-888-811-5753.
Choosing A
Towing Company Near Me
There are plenty of towing companies to choose from, so you want to make sure you're picking a quality company that works fast. Our friendly operators at Lake Services Unlimited Towing and Recovery LLC are quick to help, always keep your car's safety in mind, and help you get where you need to go in no-time.
Lake Services Unlimited Towing and Recovery LLC is a division of Lake Services Unlimited