Best  Towing & Recovery Company in St Croix Falls, Wisconsin
Towing Services St Croix Falls: Professional, Reliable & Available 24/7.
Fast Tow Services, Wrecker & Flatbed Towing Service In Polk County, Wisconsin.
FREE Quote Available Call: 888-811-5753
Lake Services Unlimited Towing and Recovery LLC Services Is Ready to Help, Simply Call 888-811-5753
Our tow services are fast and reliable, handled by professionals and are available 24 hours a day. If you need a truck towed, a car towed, or simply some gasoline you can rest assured that we will be at your side soon.
24-HOUR TOW SERVICES IN THE ST CROIX FALLS AREA.

Wrecker Help – When you are involved a car accident, the last thing you want to think about is waiting an unreasonable period of time for a tow truck to arrive. With our Lake Services Unlimited Towing and Recovery LLC Company, we are there when you need us the most. Our flatbed tow truck is available when your car is so damaged that it can't roll on two wheels. While you worry about whether everyone is ok, we are hauling away the debris.
Vehicle Recovery – You may find that you need our vehicle recovery services. When you have to abandon your car at the side of the road or if your car is disabled anywhere Lake Services Unlimited Towing and Recovery LLC can get there quickly and safely, recover your vehicle, and take it wherever you need us to take it.
Fuel Recovery – Many of us have been in this situation right? You have run out of gas when you thought you could make it to the gas station. You are about a mile short and it is 90 degrees outside. Or maybe zero degrees outside. Either condition is extremely unpleasant when you have to trudge a mile or more with a gas can. Then you have to walk a mile back to your vehicle. Lake Services Unlimited Towing and Recovery LLC is open 24 hours 7 days a week, there is no need for you to torture yourself in this manner. Call us and we will come prepared with enough gas to get you to the station so you can fill-up and be safely on your way.
Emergency Towing – Unexpectedly needing a towing service can be a stressful time. At Lake Services Unlimited Towing and Recovery LLC, we rescue cars and drivers every day. With years of experience under our belt, we will be able to give you peace of mind as we take care of our part of the emergency.
Roadside Assistance – When you are stranded on the road and it is zero degrees outside, you need help fast! Call Lake Services Unlimited Towing and Recovery LLC at 888-811-5753! We are equipped to help fast. We are ready to help with mechanical problems or simply tow your car to a safe place for repairs to commence.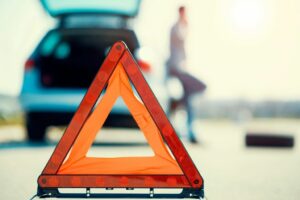 Jump Starts  – Saint Croix Falls and the surrounding areas are known to be quite cold in the winter. With that cold weather come dead batteries. Call Lake Services Unlimited Towing and Recovery LLC, so we can give you a professional jump start and have you on your way.
Tire Changes  – Whether stranded on the side of a road or simply stranded in your driveway, Lake Services Unlimited Towing and Recovery LLC can change your tire for you. The side of the road is not safe whether it is abandoned or riddled with fellow drivers. Allow us to do the dangerous work for you. We can be there 24/7 to help get you out of dangerous situations. Depending on the time of day or night and the vehicle location, we might not be able to perform a tire replacement on the spot we will then have to transport it to a shop or a secure location.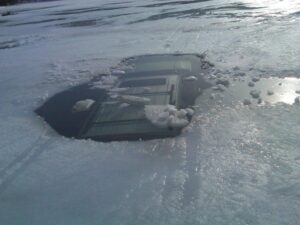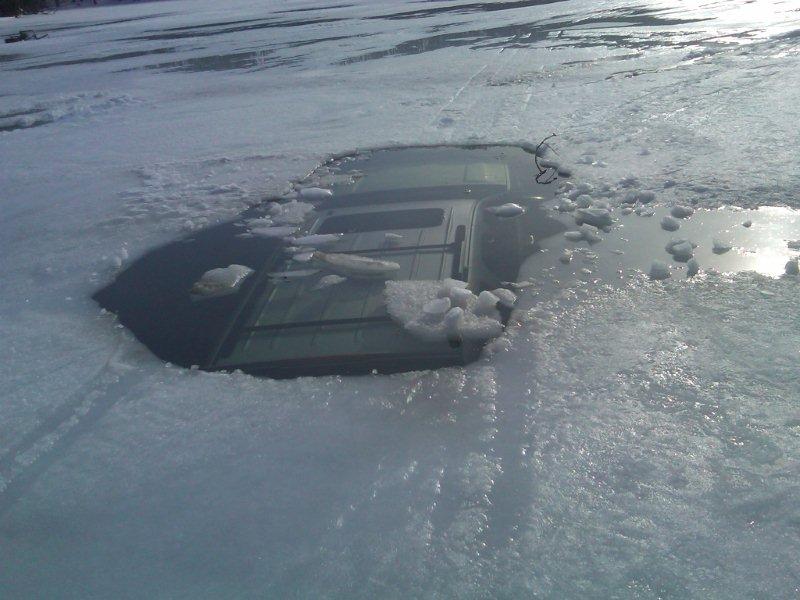 Lake and Ditch Recovery  – Lake & Ditch recovery is just not something you can maneuver out of like you may be able to with other situations. Our powerful winched trucks can quickly and safely pull your vehicle from the ditch and take it directly to where you need it. Never try to get this done with a friend and their seemingly powerful truck. You will more than likely damage their vehicle, and you could ultimately be responsible for having two vehicles repaired.
On the Spot Diagnostics – Our drivers have a lot of experience with different makes and models of vehicles. Often times they are able to tell you what is wrong with the car. This will give you an idea of where you should have the vehicle towed. If it is an easy fix, maybe you only need us to tow the vehicle to your house where a friend or even your self can fix the issue. If not an easy fix, you will be able to tell us what repair shop to bring the vehicle to. Either way we are ready to act, and remember to keep this number handy as you never know when you will get stranded or broken down or just need any roadside assistance, call your Lake Services Unlimited Towing and Recovery LLC at: 888-811-5753!
CALL TODAY FOR A FAST, AFFORDABLE AND PROFESSIONAL TOWING AND RECOVERY SERVICE AVAILABLE 24/7!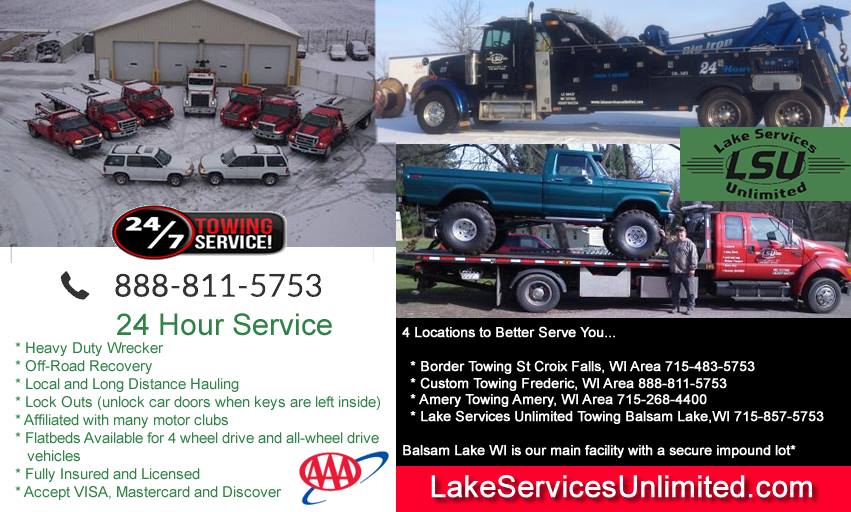 Hire Lake Services Unlimited Towing and Recovery LLC for your St Croix Falls towing needs.