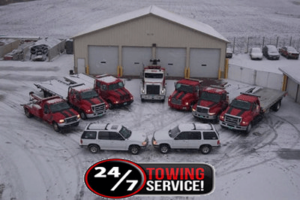 Flatbed Towing Services
Our flatbeds can efficiently transport or tow:
Exotic, classic, show and low-rider vehicles
Fully dressed motorcycles
Forklifts and equipment
Vehicles with missing wheels
Man-lifts
Trucks, SUVs and all-wheel drive vehicles
Flatbed Tow Truck Basics
Flatbed tow trucks acquire their name from their bed's flat appearance which makes them the favorable choice for a safe and secure tow.  These type of tow trucks are able to provide extreme accident recovery and vehicle transportation when necessary. The long truck beds provide the space that is needed to efficiently tow multiple vehicles simultaneously in instances where multiple cars breakdown, or two or more vehicle accidents are present—leading to an exceedingly cost-efficient towing approach.
A Better Way to Transport Your Vehicle
Yep, that just happened. Your vintage, high-performance car or truck has broken down.  It's one of life's most frustrating moments. Luckily, Lake Services Unlimited Towing and Recovery LLC is here for you 24/7 for all of your Flatbed Towing needs. It is one of the safest and most convenient ways to transport your vehicle.
You don't need to do the research to find a careful flatbed towing service near you.  With Lake Services Unlimited Towing and Recovery LLC, you're just a call away from fast, reliable flatbed towing service. So, you can get your car towed with the care it needs, where it needs to go, and get back on the road as soon as possible.
Emergency Services
You're driving on the highway, when the person in front of you slams on their breaks. Stuck with nowhere to go, you have no choice and find yourself in accident. Who do you call? Thankfully, one of the drivers from Lake Services Unlimited Towing and Recovery LLC is available and will be on the way with one of the most flexible and efficient Flatbed tow trucks available.
We hope that you never have to be in this situation, but we are here to help in case you ever are.  Lake Services Unlimited Towing and Recovery LLC is available 24/7 and has extensive vehicle knowledge, state-of-the-art equipment, and a gentle touch while handling your vehicles.
At Lake Services Unlimited Towing and Recovery LLC, our flatbed trucks are key in helping us to provide quality service that meets and exceeds clients' expectations. With a powerful fleet that includes specially-built, low-profile-designed flatbed tow trucks, we are able to provide the best towing services for heavier, longer, or lower rising vehicles.